Trophy Shop in Manteca, CA
Since 1977, Redi-Mark has held a special place in the hearts of its customers, offering a variety of custom services. Whether you need plaques or custom trophies engraved, rubber stamp creations, laminations or something else, residents in Manteca, San Joaquin County, Modesto, and Stockton, CA know Redi-Mark is the place to go!
More Than a Source for Custom Awards
There's no other trophy shop or rubber stamp maker in Manteca, CA much like Redi-Mark. We've been serving Manteca and its surrounding area for more than 38 years and we have no plans of slowing down. Our trophy engraving establishment is family-owned and –operated, with a strong work ethic etched into its roots. If there is any service you need, from creating custom-made trophies to eye-popping office supplies, we've got you covered. We are more than just a trophy shop! Here at Redi-Mark, we will do the best we can to make you feel like you're receiving the best service Manteca, CA has ever seen. Our goal is to keep you coming back.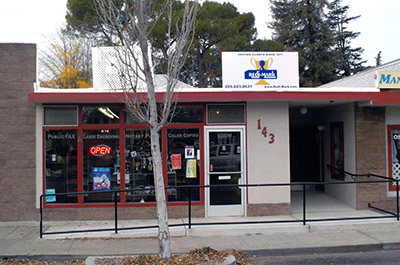 Let Redi-Mark transform that plain bowling trophy on your mantel into something that makes your houseguests double-take. We create conversation starters here. Go from "First Place Winner," to "Best Bowler to Ever Grace the Lanes!" We offer the best trophy engraving in Manteca, CA. Whatever you need, we can make it happen. Want your own custom stamps? We can have everything from your name to your job title and contact info all put into a single stamp. Just like you take pride in personalizing your trophies and stamps, Redi-Mark takes pride in bringing you quality products at premier prices. Take a look at just a few more reasons our customers keep on coming back:
We are family-owned and -operated, in business since 1977.
We provide custom awards and services nationwide.
We serve surrounding areas such as Modesto, Stockton and San Joaquin County, CA.
We offer a bevy of award fabrication services
Make Your Mark
We promise to take care of you when you work with Redi-Mark! Stop in, call or email our rubber stamp makers with any questions or for a quote on services. You won't be sorry you chose us!
Contact Us
Providing custom awards, and trophy engraving services to the residents of:
Manteca, CA
Modesto, CA
Stockton, CA
San Joaquin County, CA
the surrounding areas, and shipping products across the nation!
Please click on any of the premier collections below to view the line-up.